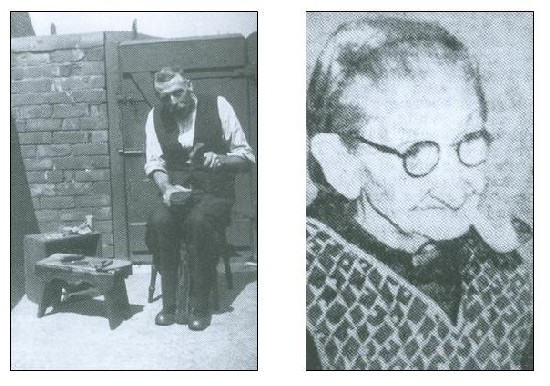 The Taskas family originated in Cornwall and moved north initially to North Yorkshire in the late 1870s, they came to the Durham coalfield in 1901. Thomas, (pictured above left) was born in Loftus in 1880, lived in the Row from 1901 to 1939 with his wife Lavinia, a member of the Prinn family, who continued to live there until 1945. Thomas' mother came from Gulval, west of Penzance on the way to Lands End. His twin sisters Ester and Elizabeth were born in Normanby on Teesside in 1882.
Pictured above on the right is another High Row resident, Esther (Grannie) Gibson who lived at no. 34, she had 8 children and lived until she was 95.
The Morton family lived in the Row the longest, for nearly 100 years from 1861 until the end in 1958 Michael McDermott, born in Whickham in 1856, and his family lived in the Row from 1899 until 1925. John and Sarah McDermott then lived there from 1925 until 1956. The Riddlers came from Somerset in 1891 and stayed there until 1909. There were two sets of Riddlers living in the Row at the same time, Robert and his family, and John and his family. The Gooch family originally came from Hempnall in Norfolk in 1881 and were still living in the Row in 1914 but had gone by the end of the first world war.
Thomas and Elizabeth Phelps and their children Alan, Herbert, Charlotte and Selina lived there from 1925 until 1939. Barty Phelps sold fish from a van for a few years in the 1930s. David Skeen and his family lived there in 1930. Then William and Phillipa Skeen lived there from 1939 until 1958, and David also lived with them from 1955 to 1959. Next door John and Doreen Skeen were there in 1950. The McCormicks lived there for over forty years from 1913 until 1958 and the McGahon family lived in the Row The Morton family lived in the Row the longest, for nearly a hundred years from 1861 until the end in 1958. They were a north east family originally from the Cramlington area. There were a lot of Mortons, which creates a bit of confusion. A 1930s tale tells of a new colliery under manager inspecting his workings and staff. The first person was the lampman, a Morton. Then came the onsetter, a Morton. The rolleyman describing the haulage system was a Morton. The next man was a pony putter, again a Morton. Then at the coal face, the hewer he met was a Morton. When back in his office, he suggested to the overman that the place be renamed Morton pit as they seemed to run it themselves. After the war, a John Morton was colliery manager and later area manager . Thomas Brabban and family lived there from 1861, when he was a miner, until 1909. He became colliery overman by 1901 aged 72. Another Thomas Brabban was a deputy overman in 1901 aged 35 and lived there until 1914. The Brabbans, a local family, lived at several places around Sunniside over the years. The Wailes family, originally from Lanchester, lived there for almost a century from 1861 until 1958. William and Winifred lived at No.23 from 1935 to 1945. Hilda Wails lived there from 1945 to 1958. Another local family, the Chisholm lived in the Row from 1851 to 1909. Robert Chisholm and family lived there from 1871 until 1909.
Other family names are still remembered from High Row among them the Lowdens, Thompsons, Ibbetsons, Cliftons, Gibsons, Pattersons, Ellisons, Bells, O'Rourkes, Tilleys, Keenans, Herons, Nixons, Browns, Prinns and Wails.
High Row was demolished in 1960, many of the descendants of those families still live in our villages.