THE CRESCENT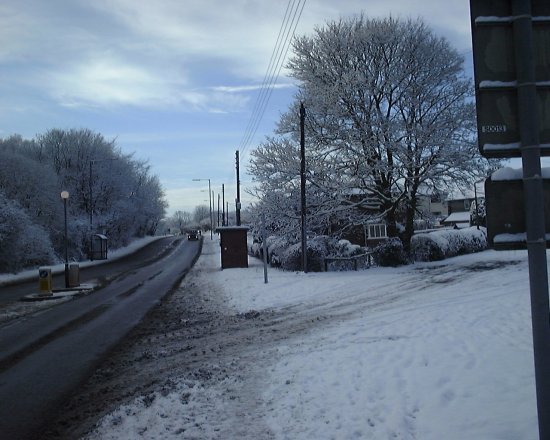 The Crescent Sunniside
Where numbers 10 and 11 Fell Close are now, there once stood a house known as Blackburn Edge. It overlooked the Black burn and stood on the very edge of Lamesley Chapelry. From here a path crossed the burn and ran over to Old Sunniside. Here in 1836 lived Saint Bean, whose family came from the Morpeth area, he lived with his wife Mary, a local girl. Saint Bean was a Miller by trade but by 1851 he had become a flour dealer and shopkeeper, the family also kept a Grocers shop here until the 1880s. Saint Beans son Robert, set up a Grocers shop at Hill Row ( known later as Post Office Row ) in 1860.
By 1891 it seems that the house had gone, leaving only some out buildings and a greenhouse. Within a couple of years however, Sunniside House ( No 9 Fell Close ) was built and in effect took over as being the small holding here. From 1910 to 1921, Wilson Bell, cowkeeper and a miner at Marley Hill Colliery, had the place. Then later on Ernie Best, a lorry driver for Harry Kindred was here, he kept a few pigs on the allotment.
The Crescent we know today (pictured above on 29th December 2005) owes its existence to Mr Harry Kindred ( 1885 - 1960 ), Builder, and a Joiner by trade. Although he was born and bred at Alston, he spent about 25 yrs in Sunniside before he moved to Westacres Crescent Newcastle, and it was from Sunniside that he established his family business. In 1911 he built Linton Cottage, Cornmoor Road for Mr C.Morley, and in 1912 he was working with Will Hockey on seventeen houses at Whaggs Lane and Broom Lane.
After the Great War, he worked for a while as an Undertaker, but then decided to set up as an independent builder. On September 25th 1920, he began building the fifty houses at West Marley Hill for Whickham Council, having won the contract costing £40,309. Having completed his first major contract, he was able to buy the six acres of land where the Crescent now stands. Eleven semi's and self contained houses were built to a high standard, the upper half of the outside walls were rendered with pebble dash. Mr Kindred moved from Larch Street into the house he built for his own family, " Roseville ". He also built numbers one to eight Elm Street West, which sold for around £350.
He bought Sunniside wood ( later known as Kindreds wood pictured above on the left of the photograph) and it was clear felled, although a couple of beeches still survive next to the old railway line. This resulted in more open stretches of heather and local folk had picnics there. Some of Mr Kindreds workmen kept the boundary hedges cut.
In 1926 he bought the Westacres estate, Benwell Hill, and built sixty five houses. The Firms present offices at 371 West Road are built on the site of the former entrance lodge for the old estate. By 1934 the Firm had built 1,579 Council houses in Newcastle, and was employing up to 400 men. Harry was a member of Sunniside United Methodist Chapel, and when a Committee was set up in 1931 for the building of their new Sunday school, Harry gave invaluable advice. In 1933 he built the ten semi's at Fell View, ( part of the site was an old sand pit ) the houses were installed with electric lighting at the time of building. " Briar Rose " No 9 has a brick near the front door marked H. Kindred, builder.
At "Woodcroft" lived the Roddam family. Harry Bell Roddam (1895 - 1977), the son of John and Mary Roddam of High Row, was one of the most gifted of teachers at Marley Hill C.C. school. He gained his teacher's certificate at the Isleworth College, London. Harry and his sister Sally taught at Marley Hill in 1920's. They came from a mining family (grandfather) Willam was a back overman) but John was able to get out of the pit to work for an insurance company. Harry became the woodwork teacher at Dunston Hill school and retired here as headmaster. All his adult life was spent as a committed Christian, first as a member of Marley Hill Primitive Methodist chapel where he was a choirmaster, organist, and lay preacher.
" Glenthorn " at the entrance to Fell Close was built in 1938 and sold at £400. The fourteen or so semi detached houses at Fell Close were built in 1961 to complete the jigsaw. At "Springfield " the Crescent, Doctor Michael Bell had his weekday surgery, from 1953 until his retirement in 1987. Miss M. Dixon retired as Matron of Whickham Cottage Hospital and came to live at Springfield in the late 1950's, where she assisted Doctor Michael. After serving in the Army during the war, Michael studied at the School of Medicine, Kings College Newcastle. He qualified in 1947 at the age of 26 yrs and joined the Whickham practice in 1950. He started a surgery at Mrs Elliotts house in Elm Street, taking over from Doctor Wilkie and Doctor Eddy.